Substance Suite
Inspiring content and intelligent tools to create and apply materials for 3D.
Solutions tailored for your industry
Substance Source
High-end library of materials, decals, and atlases for 3D
Walls
From the gigantic stadium to the quaint townhouse, build all kinds of walls.
Abandoned buildings
When time has eroded the buildings and they crack and crumble.
Roads and sidewalks
Man-made pathways unfolding through the cities, for walkers and drivers.
Substance Source is the largest library of procedural materials.
Optimized for production, designed with flexibility, and made with all artists in mind, the Substance Source materials are your one-stop shop for 3D creations of beauty.
Substance Share
Materials, filters, meshes, and more: made by and for the community
Substance Share is where artists of all genres can upload and download 3D assets.
Whether you are a material expert aiming to share your work, or in search of a plugin, chances are you will find what you seek – and more.  
Magazine
Get inspired with stories, interviews, tech news, and much more
The Magazine broadcasts the voices of creative 3D.
From award-winning movies to burgeoning artists, each article is designed to bridge the gaps between all the ways we do 3D.
All in all, wanting to connect and inspire.  
Events
Meet the teams, chat with other artists, learn, exchange, explore
Learning
120 courses designed by experts
How do I get started? 3D tools can sometimes feel difficult to approach.
We designed courses, from your very first steps to more advanced and industry-specific techniques, to help you broaden the scope of what you create. 
Download the Launcher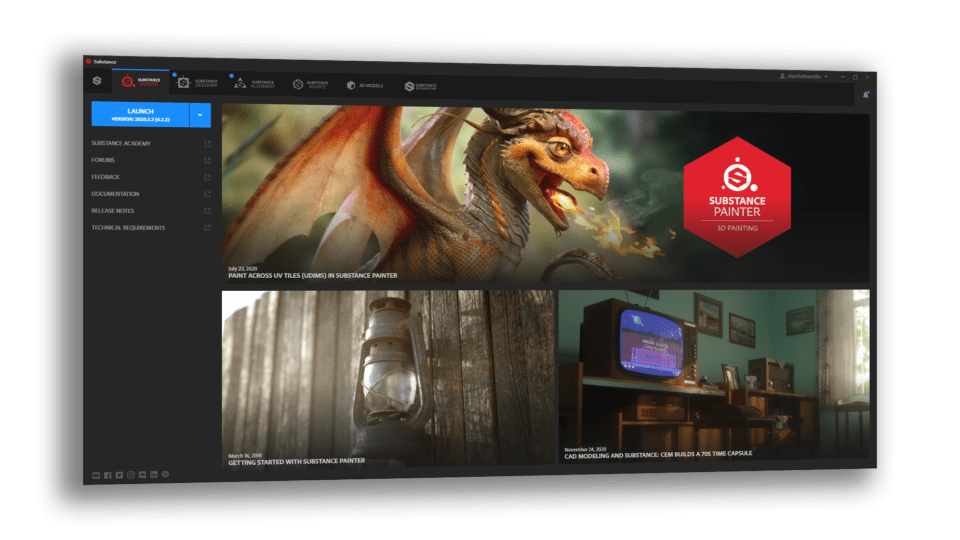 The Launcher makes your life easier
- Install your software
- Browse and download from Substance Source
- Download your plugins
- Keep up to date with the latest news
- Join the community
They use Substance